Free

Financial Education

With over 25 years of experience in the mortgage industry, Malcolm (the actual moneyman) has taken to YouTube to help home buyers and homeowners, from all over the country, understand the mortgage process. His aim is to make mortgages easier for people to understand. Getting a mortgage should not be a stressful process, however, with many mortgage myths and unknowns lurking about, it can be hard to know the true meanings of many mortgage terminologies.

Our Channel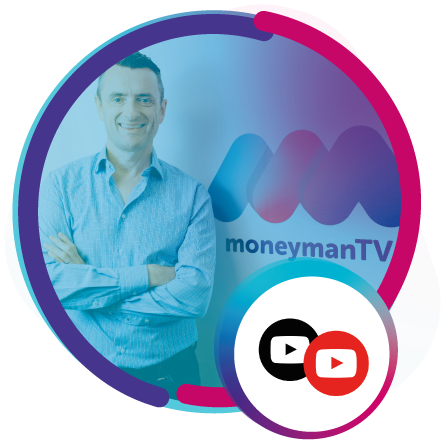 100+

Helpful Videos

The channel is packed full of a wide variety of useful tips and tricks. From "how to get a mortgage" to "how to improve your credit score", we are certain that you will find a guide or explanation that will be relevant to your own mortgage situation. Subscribe for regular market updates, up-to-date mortgage videos and guides.

Subscribe Here
Our Top Mortgage Playlists
MoneymanTV - Home of UK Mortgage Advice
We post weekly content on our YouTube channel and across our social channels to keep you in the loop with the market.
Take a look at our range of helpful mortgage playlists and videos. There is a guide for everyone.
If you have a question that you want Malcolm to answer, feel free to drop a comment on one of our videos.
Malcolm has been working within the industry for the past 25 years, he knows the ins and outs of mortgages!
Our Customers Love Us
4.97 Rating285 Reviews
Hannah
The whole team at UK Moneyman have been so friendly and helpful, whilst also providing an excellent service and securing me a mortgage offer really quickly. Even when there were questions and changes, they went over and above to help and always came...
1 day ago
Sarah
Fantastic service from Tom Bowes
1 week ago
Brooke
Excellent service, great communication & highly professional
2 weeks ago
Khristopher
Malcolm and Meghan did a great job with my application which due to a chain breaking down had to be done for two different properties, was kept informed throughout and they made me aware of changes in the market i didn't know about. Would...
2 weeks ago
Hilary
Matt and Wendy worked tirelessly and creatively to reach a great mortgage outcome for me in what was a less than straightforward journey. The commitment and advocacy was fist class and communication, always excellent. Matt really earned his broker...
1 month ago
Nina
I'm very happy with the services UK Moneyman have been providing during my buying process so far. I'm a first-time buyer so it was very important to me to have a mortgage broker who could answer all my questions in a timely and...
1 month ago
Stuart
Great team who works to get you exactly what you need, they made the whole process smooth and painless, so I would highly recommend them.
2 months ago
Danielle
I honestly couldn't have asked for a better service with UK Moneyman! I have been working with Charlie and Wendy! They have been SO helpful throughout the whole process and so supportive, never a hassle for them when I've been bombarding...
2 months ago
Clair
Informative, friendly, helpful and efficient service.
2 months ago
Katie
Really glad I went with UK Moneyman for my first mortgage, explained everything to me so well and was always on hand when I needed them as I work long hours at weekdays so having appointments on the weekends was so helpful for me, would definitely...
2 months ago
Natalie
Tom and Chloe were super helpful with our first time mortgage. We had a couple of properties fall through but Tom was there to help and guided us through the whole process.
2 months ago
paul
I think anyone would have difficulty finding a more helpful and friendly Financial Advisor. We used them to find a suitable later life mortgage and their effort and persistence in the face of some difficulties (caused by our particular...
2 months ago
Anonymous
Good advice and a professional hand both made the process seem effortless. Full marks for a service and result!!
2 months ago
Christopher
Wayne and Paula have been very helpful in helping me purchase my first house would highly recommend them to anyone wanting a mortgage advisor! Wayne was also very flexible with time as I have very odd working hours and worked out a time for phone...
2 months ago
Carol
Excellent service, Tom and Lynsey were responsive and extremely helpful including in resolving issues of transferring the offer to another property when the seller of the first property I was buying pulled out.
3 months ago
Marco
It's the 3rd time I've dealt with the team at UK Moneyman, as before they have been informative, punctual, detailed and a pleasure to deal with. I couldn't reccomend them more highly.
3 months ago
Suzanna
Excellent communication from start to finish. Highly recommend.
4 months ago
Rasheda
Very friendly and provided all the information I needed.
4 months ago
Pauline
Very pleased with Allen's professionalism , he was able to answer all my questions to my satisfaction
4 months ago
Paul
Excellent experience all around, used for two mortgages and will use again
4 months ago
We search 1000s of mortgage deals