Free

Financial Education

With over 25 years of experience in the mortgage industry, Malcolm (the actual moneyman) has taken to YouTube to help home buyers and homeowners, from all over the country, understand the mortgage process. His aim is to make mortgages easier for people to understand. Getting a mortgage should not be a stressful process, however, with many mortgage myths and unknowns lurking about, it can be hard to know the true meanings of many mortgage terminologies.

Our Channel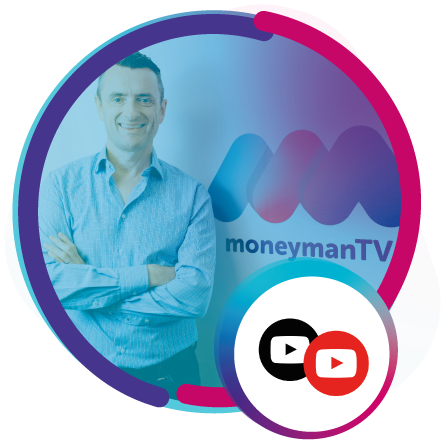 100+

Helpful Videos

The channel is packed full of a wide variety of useful tips and tricks. From "how to get a mortgage" to "how to improve your credit score", we are certain that you will find a guide or explanation that will be relevant to your own mortgage situation. Subscribe for regular market updates, up-to-date mortgage videos and guides.

Subscribe Here
Our Top Mortgage Playlists
MoneymanTV - Home of UK Mortgage Advice
We post weekly content on our YouTube channel and across our social channels to keep you in the loop with the market.
Take a look at our range of helpful mortgage playlists and videos. There is a guide for everyone.
If you have a question that you want Malcolm to answer, feel free to drop a comment on one of our videos.
Malcolm has been working within the industry for the past 25 years, he knows the ins and outs of mortgages!
Our Customers Love Us
4.97 Rating269 Reviews
Suzanna
Excellent communication from start to finish. Highly recommend.
2 weeks ago
Rasheda
Very friendly and provided all the information I needed.
3 weeks ago
Pauline
Very pleased with Allen's professionalism , he was able to answer all my questions to my satisfaction
3 weeks ago
Paul
Excellent experience all around, used for two mortgages and will use again
3 weeks ago
Lee
Absolutely brilliant both Matt & Stacey. Really clear with us what our options were. Will use again when i need to find another mortgage.
4 weeks ago
Ryan
Chloe and Tom were very helpful and informative throughout and very knowledgeable we would recommend UK moneyman to any first time buyers
1 month ago
Michael
I can't thank or recommend these guys enough. Highly professional, helpful and friendly from the outset - very knowledgeable and great customer service.
1 month ago
Edward
Great company to work with, very helpful and always prompt to answer any queries.
1 month ago
Michael
Great service! Quick and trustworthy!
2 months ago
Jennifer
Excellent service from both Leo and Meghan who we feel went above and beyond to help us get our first mortgage, even when faced with some very unforeseen changes! They made the whole process extremely easy and understandable. We have already...
2 months ago
Keyuri
Very helpful
2 months ago
Shaun
Excellent service from the team, were very informative throughout the process even when we had to swap the house we were purchasing resulting in a new mortgage application.
2 months ago
Ian
Excellent service from Wayne and Stacey. Wayne took time to explain everything and reran mortgage calc a number of times as my property search went on which was much appreciated. Stacey was also extremely helpful, informative and quick to respond to...
2 months ago
Liam
Incredibly helpful from start to finish, gave me all the information I needed and made the whole process much easier
2 months ago
Mark
Megan and Wayne have been great throughout. Both really easy to work with and on top of things at every step of the process. Thanks a lot.
3 months ago
Anonymous
Excellent service by Malcolm, Paula & Meghan. We completed our purchase last week in what was supposed to be a very difficult case due to my bad credit and limited trading history as a director of LTD company. UKmoneyman dug out a lender that...
3 months ago
Jasmine
Very good service received. Wayne is very knowledgeable and helpful especially with me been a first time buyer. Also very accommodating with timings and I was able to have chats later on a night to fit my schedule. Very supportive all the way...
3 months ago
Joseph
So far so good ! The first point of contact was lovely, made me feel at ease and very knowledgeable.
3 months ago
Callum
Absolutely fantastic service from the start, in helping getting a mortgage. Charlie always replied to my messages as quickly as possible and was very clear, thorough and calming through the whole process, cutting out a lot of worries had I not used...
3 months ago
Jonathan
Great help from the team, helped find exactly what we were after, and was an easy straight forward process. Being self employed it can be tricky however there were no problems with the help and advice we received.
3 months ago
We search 1000s of mortgage deals